One of our services is your quality assurance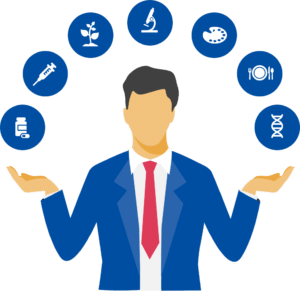 Quality assurance is a component of quality management, consisting of all technical and organizational measures for the preparation, monitoring, and testing of the creation and maintenance of a previously defined quality of a product or service. The sub-functions of quality assurance include quality planning, quality assessment, and quality control. Avanti Europe takes care of your quality assurance as part of its service portfolio.
As a global consulting and contracting company specializing in the LifeScience serving the medical devices, combination products, in-vitro diagnostics, pharmaceuticals, biotechnology, phytopharmaceuticals, novel food and cosmetics industry, Avanti Europe is your primary point of contact for quality assurance issues and project management. Our knowledgeable, senior experts provide you with flexible, tailor-made resource solutions throughout the product or service lifecycle. The applied and established quality assurance strategies convince by the possibility of individualization and easy integration into existing quality management systems.
Ever higher demands on a consistently convincing quality
The continuous improvement of the quality and efficiency of production processes is a central, absolutely essential factor for the success and the efficiency of a company. As the cornerstone of any quality policy, quality assurance aims to optimize production processes and ensure the quality of products or services. Ever-increasing demands for consistently convincing quality are presenting new challenges to entrepreneurs around the globe on a daily basis, be it in the context of new medical device regulation (MDR), novel food regulation or other business process requirements affecting products and services such as the GDPR or free-trade regulations. In order to do justice to this, the orientation of the production process to the desired quality level is very important. Avanti Europe helps you realize a quality system according to your wishes and your scope. For us, the success of your company is the focus of our philosophy.
Tailored strategies and distinctive flexibility
At Avanti Europe, we are your experienced and reliable partner to meet your everyday challenges. You benefit from our many years of practical experience in analyzing production processes and identifying weak points. In addition, we help you as part of our quality assurance service in the implementation of proposed solutions in practice. Our tailor-made strategies and distinctive flexibility help you to optimize or integrate a quality system as seamlessly as possible. With the help of the introduction of Lean principles, we at Avanti Europe ensure your process optimization. All this taking into account known, already established quality systems such as ISO 9001, GMP or ISO 13485.
Assistance with the implementation of corrective and preventive measures
We make your quality assurance the goal of all our efforts. As part of our quality assurance service, we help you to develop tailor-made quality systems. Quality audits and system analyzes are also part of our portfolio. In addition, our expertise is focused on the implementation of Corrective and Preventive Measures (CAPA) with the help of data review, problem solving and root cause analysis to help your company continuously adapt and advance its products and services to the state of the art, regardless of the risk category of your products or the manufacturing environment. This is based on our credo: Moving Business forward. Thanks to our network of consultants and experts, we are able to do this year after year. Therefore, contact the expert team of Avanti Europe for your quality assurance questions today!