Regulated industries, such as the medical device industry, demand by Regulation the implementation of a Quality Management System (QMS). There is no exemption for the requirements according to MDR 2017/745 and IVDR 2017/746 in this aspect. But which actor or economic operator must have which parts of the QMS implemented?
Get some clarity here.
As the reader might have heard already, there are several economic operators named in the MDR 2017/745 and IVDR 2017/746, which are:
Manufacturer
Authorized Representative
Importer
Distributor
These actors or operators need to implement some level of QMS to assure that products are safe and effective in their use.
As some might be tempted to say, ISO 13485 is the underpinning, and specific standard for the QMS for medical devices and in-vitro diagnostics, and thus, this is the way to go, there are many more possible roads to take.
Depending on the type of economic operator, different aspects of processes need to be implemented. As ISO 13485 is specific to medical devices, it is based on other standards, such as ISO 9001, and has basic commonalities with other standards or QMS, such as GMP.
In need of QMS processes? Speak to us and get your free consultation on these procedures.
For a safe and effective use of a medical device, an hierarchy of surveillance is applied. As MDR 2017/745 and IVDR 2017/746 define, the ultimately responsible actor is the manufacturer.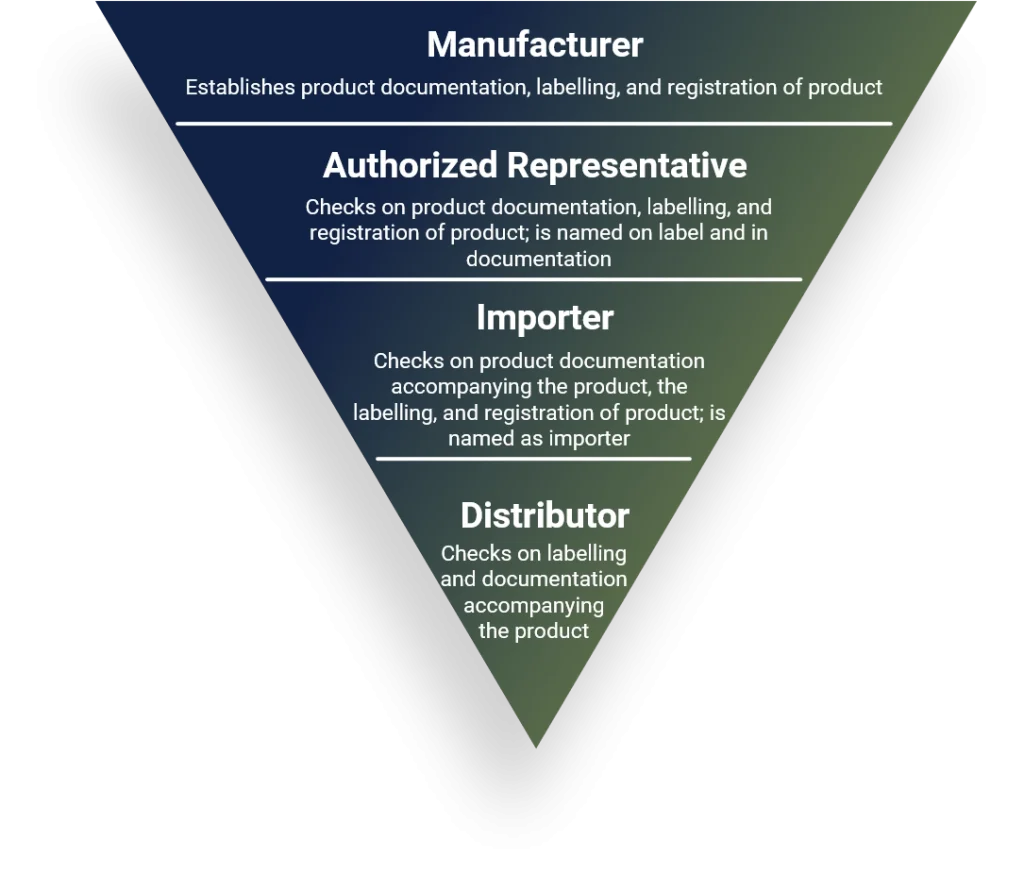 Manufacturer
All processes according ISO 13485 and in relation to MDR 2017/745 or  IVDR 2017/746, depending on the specifics of the product, as per article 10.
Authorized representative
Confirms that the products has been documented and registered according to the Regulation and that procedures for communication and safety-relevant actions in the respective territory have been implemented, as per article 11.
importer
The Importer is checking on the documentation and correct labeling of the product entering the territory. Further, the importer shall be named on the labelling of the product, as per article 13.
distributor
The Distributor is checking on the documentation accompanying the product and correct labeling of the product distributed in the territory, as per article 14.
With the applied hierarchy, the safety features and documentation can be checked starting from general features for the distributor to detailed characteristics for the authorized representative. Thus, the hierarchical approach allows the distributors, with minimal efforts, to assure that medical devices and in-vitro diagnostics are safe to distribute in the territory.
How Avanti europe can help
Avanti Europe's Experts have a decade-long track record and expertise in consulting and hands-on working with different eQMS and eDMS in the Pharmaceutical, Cosmetical, and Medical Device industry. Our experts support your company with hands-on workforce and support in risk-based process design, documentation, and training for the company staff. Visit our online shop for checklists and other services.